Sold Per Piece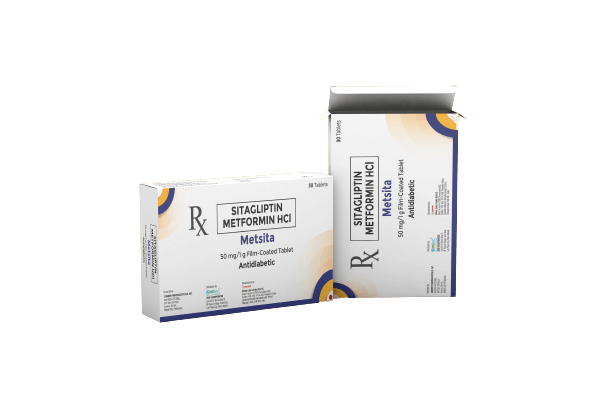 Metsita 50 mg/ 1 g
Strength: 50 mg/ 1 g
Marketed By : 2MG Incorporated
Generic Name : Sitagliptin (as hydrochloride) + Metformin Hydrochloride
Packaging Type : Box
Same Day Delivery - 1 Days
Regular Delivery - 3 Days
Regular Delivery - 7 Days
Note:
We require a doctor's prescription for this product. Don't forget to attach a copy of your valid prescription (.jpeg, .pdf, or .png format) upon checkout, or email it to info@getmeds.ph with your order number! To confirm your order and validate your prescription, our pharmacist will be in touch after you place your order. For a smoother transaction upon delivery, please be ready to present the original copy of your prescription when claiming your order.

* SOLD PER PIECE

Customer Reviews
0.00%

( Total Review 0 )
0.00%

( Total Review 0 )
0.00%

( Total Review 0 )
0.00%

( Total Review 0 )
0.00%

( Total Review 0 )
Reviews Sitagliptin (as hydrochloride) + Metformin Hydrochloride is a combination medication used to treat type 2 diabetes. This medication works by increasing insulin production and decreasing glucose production in the liver. It also helps to decrease the amount of glucose absorbed from food and increases the sensitivity of cells to insulin.
Metsita 50 mg/ 1 g is taken orally, typically twice daily with meals. It is important to take this medication exactly as directed by your healthcare provider. Your healthcare provider may adjust your dosage as needed to control your blood sugar levels.