Sold Per Piece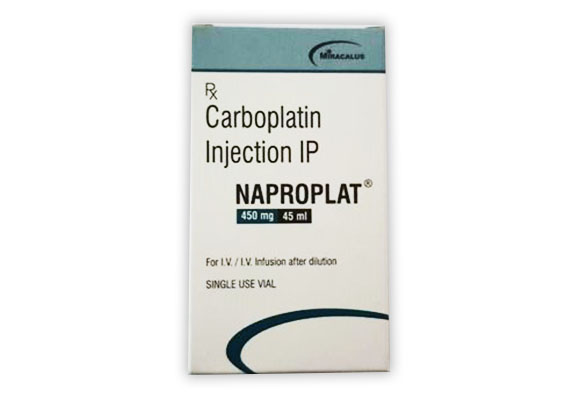 Naproplat 450 mg/ 45 ml
Strength: 450 mg/ 45 ml
Marketed By : Multicare Pharmaceuticals Phils. Inc
Generic Name : Carboplatin
Packaging Type : Vial
Same Day Delivery - 1 Days
Regular Delivery - 3 Days
Regular Delivery - 7 Days
Note:
We require a doctor's prescription for this product. Don't forget to attach a copy of your valid prescription (.jpeg, .pdf, or .png format) upon checkout, or email it to info@getmeds.ph with your order number! To confirm your order and validate your prescription, our pharmacist will be in touch after you place your order. For a smoother transaction upon delivery, please be ready to present the original copy of your prescription when claiming your order.

* SOLD PER PIECE

Customer Reviews
0.00%

( Total Review 0 )
0.00%

( Total Review 0 )
0.00%

( Total Review 0 )
0.00%

( Total Review 0 )
0.00%

( Total Review 0 )
Reviews Carboplatin is a chemotherapy medication used to treat various types of cancer, including ovarian, lung, and head and neck cancer. It works by interfering with the DNA of cancer cells, preventing them from growing and spreading.
Naproplat 450 mg/ 45 ml (Carboplatin vial) is a sterile and non-pyrogenic solution containing Carboplatin as an active ingredient. It is intended for intravenous administration only, and the dosage is determined by the patient's weight and type of cancer being treated. It is often used in combination with other chemotherapy drugs to increase effectiveness.
Each vial contains a single dose of Carboplatin in a clear, colorless solution. The vial is packaged in a tamper-evident package to ensure the safety and integrity of the product.