Sold Per Piece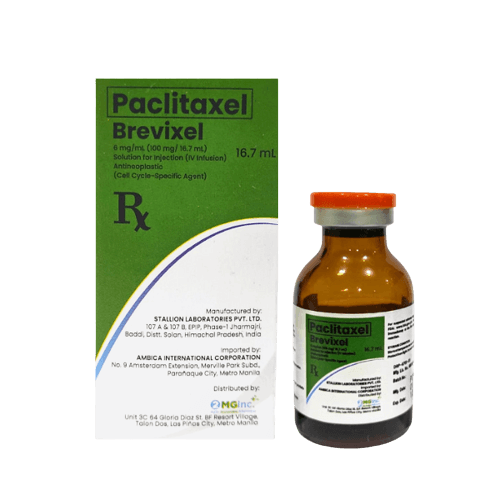 Brevixel 100 mg/16.7 ml
Strength: 100 mg/16.7 ml
Marketed By : 2MG Incorporated
Generic Name : Paclitaxel
Packaging Type : Vial
Same Day Delivery - 1 Days
Regular Delivery - 3 Days
Regular Delivery - 7 Days
Note:
We require a doctor's prescription for this product. Don't forget to attach a copy of your valid prescription (.jpeg, .pdf, or .png format) upon checkout, or email it to info@getmeds.ph with your order number! To confirm your order and validate your prescription, our pharmacist will be in touch after you place your order. For a smoother transaction upon delivery, please be ready to present the original copy of your prescription when claiming your order.

* SOLD PER PIECE

Customer Reviews
0.00%

( Total Review 0 )
0.00%

( Total Review 0 )
0.00%

( Total Review 0 )
0.00%

( Total Review 0 )
0.00%

( Total Review 0 )
Reviews Brevixel 100mg medicine is a widely used pharmaceutical product that treats various medical conditions effectively. It is known for its high efficacy and safety, making it a preferred choice for both patients and healthcare professionals. Brevixel is manufactured using advanced technology and comprehensive research, ensuring its quality and effectiveness.
One of the key benefits of Brevixel is its quick onset of action, providing fast relief to patients. Its fast-acting formula ensures that individuals can resume their normal activities without significant disruption. Moreover, Brevixel has a long-lasting effect, minimizing the need for frequent dosages.