Sold Per Piece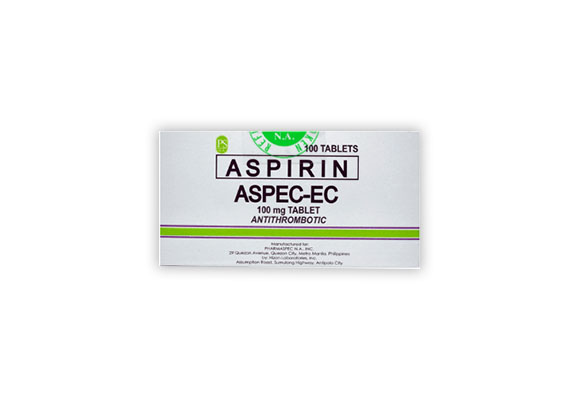 ASPEC-EC 100mg
Strength: 100mg
Marketed By : Hizon Laboratories Inc.
Generic Name : Aspirin
Packaging Type : Flap
Same Day Delivery - 1 Days
Regular Delivery - 3 Days
Regular Delivery - 7 Days
Note:
We require a doctor's prescription for this product. Don't forget to attach a copy of your valid prescription (.jpeg, .pdf, or .png format) upon checkout, or email it to info@getmeds.ph with your order number! To confirm your order and validate your prescription, our pharmacist will be in touch after you place your order. For a smoother transaction upon delivery, please be ready to present the original copy of your prescription when claiming your order.

* SOLD PER PIECE

Customer Reviews
0.00%

( Total Review 0 )
0.00%

( Total Review 0 )
0.00%

( Total Review 0 )
0.00%

( Total Review 0 )
0.00%

( Total Review 0 )
Reviews ASPEC-EC 100mg Enteric-coated tablet is branded generic Aspirin or Acetylsalicylic acid. It is used to treat pain and reduce fever and inflammation in the body. It is sometimes indicated to manage or prevent heart attacks, strokes, and chest discomfort (angina). Aspirin helps reduce the risk and avoid heart attacks and strokes in patients who previously had these conditions in high-risk individuals.