Sold Per Piece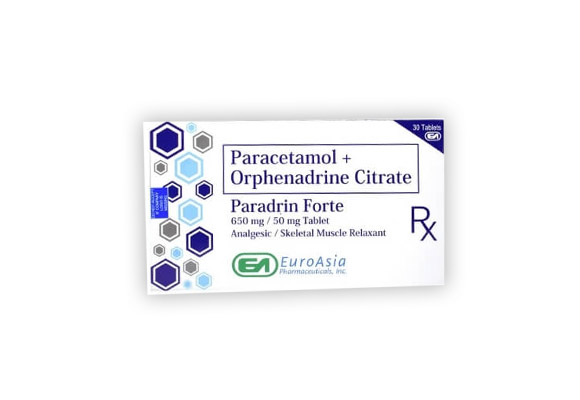 Paradrin Forte 650mg/50mg
Strength: 650mg/50mg
Marketed By : Euroasia Pharmaceuticals Inc
Generic Name : Paracetamol + Orphenadrine Citrate
Packaging Type : Flap
Same Day Delivery - 1 Days
Regular Delivery - 3 Days
Regular Delivery - 7 Days
Note: Get notified when this item comes back in stock.
Note:
We require a doctor's prescription for this product. Don't forget to attach a copy of your valid prescription (.jpeg, .pdf, or .png format) upon checkout, or email it to info@getmeds.ph with your order number! To confirm your order and validate your prescription, our pharmacist will be in touch after you place your order. For a smoother transaction upon delivery, please be ready to present the original copy of your prescription when claiming your order.

* SOLD PER PIECE

Customer Reviews
0.00%

( Total Review 0 )
0.00%

( Total Review 0 )
0.00%

( Total Review 0 )
0.00%

( Total Review 0 )
0.00%

( Total Review 0 )
Reviews Paradrin Tablet is used for acute painful musculoskeletal conditions, headache, ear pain, toothache, joint pain, periods pain, fever, cold, flu, and other diseases. Orphenadrine citrate paracetamol is also used to help relax specific muscles in your body and relieve the pain and discomfort caused by sprains, strains, or further injury to your muscles.