Sold Per Piece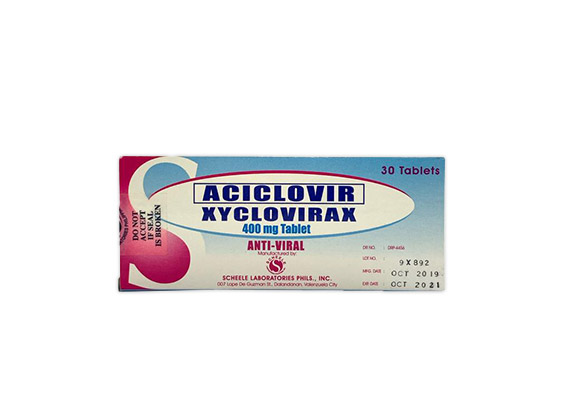 Xyclovirax 400mg
Strength: 400mg
Marketed By : Scheele Laboratories Philippines Inc
Generic Name : Aciclovir
Packaging Type : Flap
Same Day Delivery - 1 Days
Regular Delivery - 3 Days
Regular Delivery - 7 Days
Note:
We require a doctor's prescription for this product. Don't forget to attach a copy of your valid prescription (.jpeg, .pdf, or .png format) upon checkout, or email it to info@getmeds.ph with your order number! To confirm your order and validate your prescription, our pharmacist will be in touch after you place your order. For a smoother transaction upon delivery, please be ready to present the original copy of your prescription when claiming your order.

* SOLD PER PIECE

Customer Reviews
0.00%

( Total Review 0 )
0.00%

( Total Review 0 )
0.00%

( Total Review 0 )
0.00%

( Total Review 0 )
0.00%

( Total Review 0 )
Reviews Xyclovirax 400mg is used to treat infections produced by certain types of viruses. It heals cold sores around the mouth, shingles, and chickenpox. In people with frequent outbreaks, xyclovirax forte is used to help reduce the number of future episodes.
However, aciclovir tablets 800mg is not a cure for these infections. The viruses that produce these infections continue to continue in the body, even between outbreaks.
Acyclovir minimizes the severity and length of these outbreaks. It serves the sores heal faster, holds new sores from developing, and decreases pain/itching. This medication may moreover help reduce how long pain continues after the sores heal.
Moreover, in people with a weakened immune system, Acyclovir can decrease the virus's risk of growing to other parts of the body and producing severe infections.