Sold Per Piece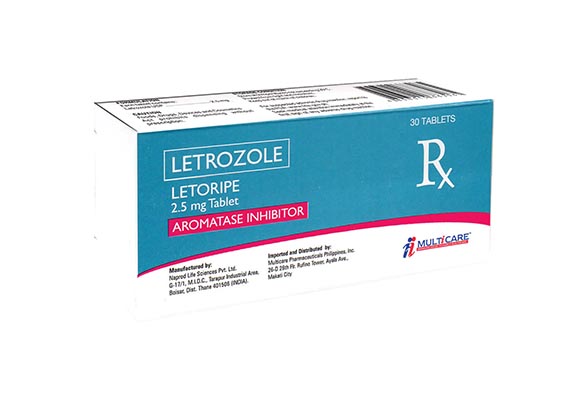 Letoripe 2.5 mg
Strength: 2.5 mg
Marketed By : Multicare Pharmaceuticals Phils. Inc
Generic Name : Letrozole
Packaging Type : Flap
Same Day Delivery - 1 Days
Regular Delivery - 3 Days
Regular Delivery - 7 Days
Note:
We require a doctor's prescription for this product. Don't forget to attach a copy of your valid prescription (.jpeg, .pdf, or .png format) upon checkout, or email it to info@getmeds.ph with your order number! To confirm your order and validate your prescription, our pharmacist will be in touch after you place your order. For a smoother transaction upon delivery, please be ready to present the original copy of your prescription when claiming your order.

* SOLD PER PIECE

Customer Reviews
0.00%

( Total Review 0 )
0.00%

( Total Review 0 )
0.00%

( Total Review 0 )
0.00%

( Total Review 0 )
0.00%

( Total Review 0 )
Reviews Letoripe 2.5mg Tablet is used alone or with other treatments, such as surgery or radiation, to treat early breast cancer in postmenopausal women. It can also be used as the first-line treatment of advanced breast cancer that has spread within the breast or other body areas.
Letrozole 2.5mg Tablet is also helpful in the treatment of infertility. `It belongs to a class of drugs called aromatase inhibitors, which decrease the amount of estrogen in the body. It can be taken with or without food, but take it simultaneously to get the most benefit. It should be taken as your doctor's advice.